After scoring tickets in a ballot to watch the NYE midnight fireworks from the Cahill Expressway last year, we stayed home this time around. My partner cooked a tasty dinner, and we watched a concert on TV courtesy of the ABC, which we paired with a Tasmanian beer we had been saving since our trip there a couple of years ago. At 11ish we scooted over to what we hoped would be a nice vantage point for the midnight fireworks.
It seems that every year the paid vantage spots in our area take up more and more space, but luckily it didn't affect our midnight walk as much as I thought it would. Arriving with just over twenty minutes to go, the wait was over in no time. It was finally 2018 in Sydney, Australia.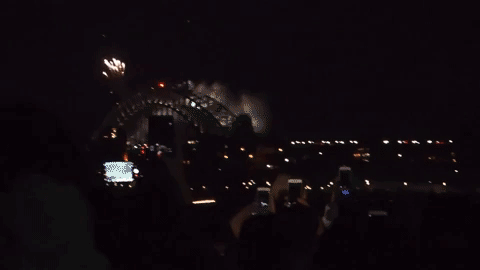 Our view got progressively worse as the smoke from the fireworks came our way, but the atmosphere was electric nonetheless. Revellers lifted strangers onto their shoulders (with consent) as the sky lit up with a red hue.
We watched the fireworks again on TV when we got home, as well as the last 30 minutes of the concert, which we had missed earlier. Sydney put on a great show.
After a relaxing morning at home on New Year's Day, 2018, we had a late lunch and dessert in Chinatown, and even went to the arcade to shoot some zombies and play air hockey. I had not played air hockey in years, and have never shot zombies before, but both were equally fun.
We stopped at the International Convention Centre and stopped to enjoy the view for a few moments. It was great to just watch people for a while, but also to reflect. I should take more time out to reflect, but never give myself the opportunity.
Overall it was a great start to a new year. I even managed to watch two films and start a third on New Year's Day!
Happy new year!